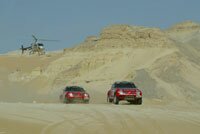 The biggest motorsport event of them all is the Dakar and Toby is the world wide voice on the TV of the enormous event through channels broadcasting on Speed in the USA, Fox Sports in Australia, M-Net in South Africa etc. Working directly with the organisers, TSO and ASO, he is responsible for the commentary on the daily feed after each days action that is then distributed all over the globe. For Speed TV in the USA he is the host of the programme on screen highlighting the North American viewpoint.
It is a gruelling event that punishes you throughout three weeks of cold European weather to 47 degrees scorching sunshine in the middle of the Sahara desert.
The Dakar computer games have recently taken Tobys advice about the real Dakar and what makes the event so special.